Children's Rights Day – 20th November

Thousands of children and young people take to the streets of Switzerland in protest against exploitation.
For the seventeenth consecutive year, to mark the International Children's Rights Day, Terre des hommes is working on a national awareness campaign to highlight the exploitation to which 168 million children around the world are exposed.
Where the action is taking place 2014
Between 17th and 21st November 2014, in more than 80 locations all over Switzerland, more than 3300 pupils will take part in the action campaign by holding information stands, cleaning shoes, washing windscreens or revealing their artistic talents. Why are they doing this? In order to make passers-by aware of the misery inflicted upon millions of children who work under conditions which compromise their education and cause damage to their health, safety or moral development.
The funds raised by this event will be channelled into child protection projects. You can find further details on the children at work projects in Burkina Faso, Colombia, Nepal, the Palestinian territories, Togo and Morocco.
Over the months of October and November, Terre des hommes leaders visited 84 classes and used role play to bring up the problem of child exploitation.
New website to understand child rights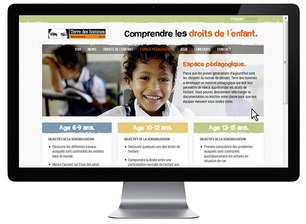 A new website to learn more about Child rights is now available in French Comprendre les droits de l'enfant or German Kinderrechte verstehen. It provides teachers and youth group leaders with new pedagogical tools suited to the different ages of those taking part. Because children learn better while playing, Terre des hommes recently developed interactive games to confront children to the reality of other children elsewhere.
For the 25th UN Convention on the Rights of the Child, Terre des hommes is running a competition in Swiss schools. This competition is aimed at educating young people and encouraging them to think and take part in fruitful exchanges on the subject of children's rights with the subsequent aim of educating the Swiss population on this subject.
In total 9 groups take part in the competition. They present their projects during the week of the 20th November 2014.
An event which concerns us all
Over the weekend of 19th and 26th November 2014, the Tdh volunteers groups are organising stands to raise awareness on children's rights.
Organic and Fair-trade milk chocolate bars, produced with great care and passion by the Schönberger chocolaterie in Luzern, will be offered to passers-by in exchange for CHF 7.
Other businesses will also show their solidarity by adding these chocolate bars to their range of products as from 18th November. This second sale of chocolate will also be supported by the following businesses: the shops Nature & Découvertes, the bookshops Payot, the restaurant Tiff-In, the museums MUDAC and Elysée, as well as the chemist Pharmacie Plus du Flon in Lausanne.
Motivated employees from Zurich Assurance will renew their support and will assist with the sale of Terre des hommes chocolate as part of the company volunteer scheme with the stands in Lausanne, Montreux and Morges.
Profit from these sales will be used entirely to finance Terre des hommes child protection projects.
Help us to protect hundreds of thousands of exploited children and join up with:
Children in the streets of Switzerland: 17th to 21st November 2014
Our volunteers at the Tdh stands: 19th to 26th November 2014
Employees of Zurich Assurance: 21st November 2014
Businesses which show solidarity: from 22nd November 2014
Thank you for your support!
If you have any questions we will be happy to answer them:
events@tdh.ch, tel. 058 611 07 84, fax 058 611 06 77
Gallery