Children's Rights Day – 20th November

On Children's Rights Day, 20th November, thousands of Swiss children will be on the streets to show solidarity for the 168 million children in the world who have to work. They will polish shoes, play music, perform as acrobats or give out chocolate in over 100 locations spread throughout Switzerland. Under the auspices of Terre des hommes (Tdh), this event is aimed at educating school children and youth worker associations on children's rights. The funds raised are devoted entirely to Terre des hommes' child protection projects.
What will such street activities be like on Children's Rights Day?
Watch the video:

The funds raised by this event will be channelled into child protection projects. You can find further details on the children at work projects in Burkina Faso, Colombia, Nepal, the Palestinian territories, Togo and Morocco.
Before the event takes place, you can take away the following:
• Learning materials in French or German : Terre des hommes provides teachers and youth group leaders with new pedagogical tools suited to the different ages of those taking part. These are designed to prepare school children and young people for the activities of the 20th of November and to raise awareness on the subject of children exploited for work. Terres des hommes can suggest activities on the subject of children's rights and exploitation with your class or group for 1 or 2 lessons in October and November.
• Games: Because children learn better while playing, Terre des hommes recently developed interactive games to confront children to the reality of other children elsewhere. Go to our new website and learn more about Child rights: in French Comprendre les droits de l'enfant or German Kinderrechte verstehen
• We can give you ideas for making things which you can then give to passers-by on the day. Your own ideas are also very welcome e.g. street theatre etc.
• Materials for the event and for communication. Depending on the activities carried out, you will receive shoe polish, Terre des hommes chocolate for those selling on the street or in kiosks and information in the form of flyers for passers-by.
Your participation will help protect children from exploitation.
From the gold mine to school
Worldwide, millions of children are being exploited and forced to work. 85 million of them work in extreme conditions, dangerous for their health. We reintegrate children back into their family lives or make sure they find safety and peace in an environment where they can develop. Children are accompanied by our on-site staff until they get what they are entitled to: a proper childhood and through proper education or training, the chance for a better future.
"My father died young and that is why my older brother and I left home. We wanted to earn some money so that we could look after our mother and younger siblings. From dawn until dusk, we went down narrow tunnels looking for gold, barely stopping to rest. We barely got enough to eat and most of the time, we didn't even get paid." Discover the full journey of Joseph 30 meters underground (content in French or German)
Thanks to the work of Tdh, a school in the area was found for Patrice (11) while his brother Joseph (13) was able to take advantage of a training programme and an apprenticeship as a welder.
Last Year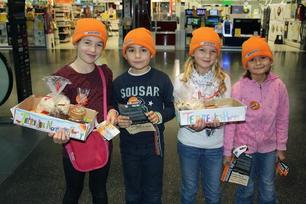 In 2013, nearly 3,700 children and young people in more than 140 locations in Switzerland took to the streets to shine shoes and give away the things they made and Terre des hommes chocolate in return for a donation and in doing so, educated passers-by on the situation of exploited children around the world.
When?
This event with schools will take place throughout Switzerland between the 19th and 21st of November, 2014 . You can choose from these dates or another which suits you better.
Information and registration
By email: events@tdh.ch, telephone: 058 611 07 84 or directly using the online form
New in 2014
For the 25th UN Convention on the Rights of the Child, Terre des hommes is running a competition in Swiss schools.
This competition is aimed at educating young people and encouraging them to think and take part in fruitful exchanges on the subject of children's rights with the subsequent aim of educating the Swiss population on this subject.
We recommend a project group made up of a maximum of 10 school children. The groups may choose the format of their project freely e.g. text format, blog, film, audio recording or painting. Each group carries it out in the week of November 20th. A report from each group, with details of the project plan, its implementation and the results obtained, must then be sent to Terre des hommes by the 15th of January, 2015 .
A specialist jury will consider the projects presented and will award the Ambassadors of Children's Rights Prize to the winning group.
The winning group and its supervising teacher will travel to a Terre des hommes intervention country, with their safety assured by experienced Terre des hommes workers.
Want to take part?
Order our informational brochure and registration form by writing to: events@tdh.ch or calling 058 611 07 84
Download the rules of the competition and the important steps from a project.
Gallery